Injunction seeks to prevent pointless destruction of land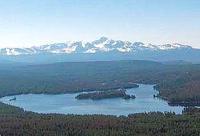 Tsilhqot'in and mining company to argue cases in court Monday
WILLIAMS LAKE, BC, Nov. 25, 2011 /CNW/ - The Tsilhqot'in Nation will seek Monday to protect a prized area of its territories from being damaged by exploration work based on permits that were granted in breach of the Crown's consultation obligations for a mining proposal that has already been rejected in an extensive and independent environmental assessment.
Taseko Mines Ltd argued in court earlier this month when the injunctions battle began that it would be doing work on an area that is already dead because of the pine beetle. In fact, however, the Little Fish Lake area that is the target of planned roads and drilling is a vibrant, thriving area.
"The Tsilhqot'in are seeking an injunction to prevent exploration work from proceeding, and we have a separate application before the courts for a judicial review of the BC permits granted for the work, which we believe were illegal and must be revoked or suspended," said Tsilhqot'in Tribal Chair Joe Alphonse.
Xeni Gwet'in Chief Marilyn Baptiste noted Taseko Mines Ltd has also been distributing erroneous and misleading information to media in support of its own injunction aimed at gaining entry to the lands to build its roads and test sites. "It has questioned our respect for the law, but the reality is the Tsilhqot'in Nation has worked with and through the legal system to defend our rights and positions and continue to place our expectations on the law and the Canadian Constitution to defend our rights," said Chief Baptiste.
"We continue to seek to avoid confrontation and to work through the courts to ensure that illegally granted provincial permits are not used to allow extensive damage in pursuit of an option that has already been found by the company and Environment Canada to be worse than the preferred option, which itself was rejected by Ottawa based on the "scathing" and "condemning" findings of a Canadian Environmental Assessment Agency's review panel.
Chief Alphonse said: "It is also important to note that we were prepared to talk with the company about moving forward - if it assured us that it had not already chosen a new plan and would be proceeding with it regardless of anything we might say. The company did not provide such an assurance."
The TNG and the TML injunction applications will be heard starting on Monday, November 28 at 10 am in the British Columbia Supreme Court, in Vancouver (Hornby St. & Nelson St.), and supporters will gather outside the court beginning at 9am, with Chief Baptiste in attendance.
Chief Baptiste: "We encourage all peoples to join us outside the court with drums and prayers, and to do the same in your respective territories wherever you may be. This is for the protection of all our lands and waters."
For further information:
Media contact: Chief Joe Alphonse 250-394-4212 | Chief Marilyn Baptiste 250-267-1401
Posted by: Wolfgang Zilker Saturday Nov 26, 2011 04:19
Categories: Teztan Biny, Xeni Gwet'in | Tags: court case, Tsilhqot'in National Government